2024
---
9 March 2024: Rediscovering Women Composers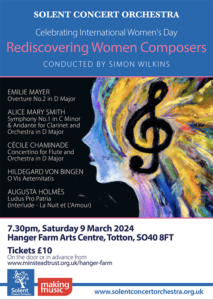 Celebrating International Women's Day our March concert is titled "Rediscovering Women Composers". The concert will take place at the Minstead Trust's Hanger Farm Arts Centre, Totton, SO40 8FT at 7.30pm, Saturday 9 March 2024.
EMILIE MAYER Overture No.2 in D Major
ALICE MARY SMITH Symphony No.1 in C Minor
ALICE MARY SMITH Andante for Clarinet and Orchestra in D Major
CÉCILE CHAMINADE Concertino for Flute and Orchestra in D Major
HILDEGARD VON BINGEN O Vis Aeternitatis
AUGUSTA HOLMÈS Ludus Pro Patria (Interlude – La Nuit et L'Amour)
The Minstead Trust nurtures the unique potential of people with learning disabilities. The trust supports them to achieve greater independence and live happier and healthier lives. This can be through support to live in their own homes, learning new skills at day opportunities or receiving work training to move towards employment.
Standard tickets £10 (other options available) from the Hanger Farm Arts Centre.